---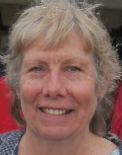 Judy Webster
,
B.App.Sc. (Med.Tech.),  Grad.Dip. Local and Applied History
Judy (formerly a medical scientist) has her own business as a professional genealogical researcher, indexer and publisher. Queensland State Archives sources are her speciality, but she has also had experience with research in London and Yorkshire.
In 1986 Judy was accredited by the Australasian Association of Genealogists and Record Agents, and in 2001 she received the Qld Family History Society's Award for Services to Family History. Her publications include two guides, Tips for Queensland Research and Specialist Indexes in Australia: a Genealogist's Guide, and many indexes. Her main Web site gives advice on sources and techniques for family history research, and lists over 50,000 names from archives and other sources.
Judy is the founder and coordinator of the award-winning Genealogists for Families project.
On a more personal note, Judy says:
Apart from family history, my interests include reading, travel, gardening, photography, kayaking, fishing, paper-making, collecting postcards, and watching cricket.
---